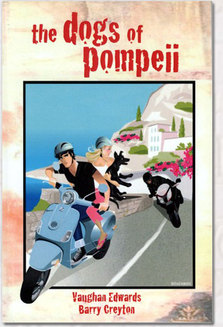 Editorial Reviews
AN ACTION PACKED ADVENTURE.
The choice of narration is unique - the book alternates between the journal of Caroline, a young American girl visiting her archeologist uncle in Pompeii, and the memoirs of Nero, one of the local dogs. The two soon team up and with the help of a local Italian boy, Gianni, set out to save Caroline's uncle's dig from impending closure, and the dogs of Pompeii from some pretty nasty dog-catchers. I think kids will particularly enjoy looking at life from a dog's perspective; Nero cracks jokes, is frequently exasperated by his human allies, and has a knack for getting himself into trouble. The story is set against the backdrop of an archeological dig in Pompeii with an excursion to the Amalfi Coast - the perfect setting for a Vespa chase scene. The glossary of Italian terms at the end, with a guide to pronunciation, are a nice addition. --
Australian Bookseller Magazine
Andrea Hanke
THIS COMPELLING ADVENTURE, SET AROUND THE RUINS OF POMPEII, ABOUNDS IN EDGE-OF-YOUR-SEAT ACTION
. Unscrupulous developers are determined not to let anything get in the way of their plans to build a resort over the ancient ruins of Pompeii - not the work of the archaeologists nor the 'Dogs of Pompeii'. Caroline, the niece of the dig's supervising professor, shares the story with an endearing stray dog, Nero (who cites Humphrey Bogart as a role model). While each character independently observes the interaction of the unscrupulous developers with their environment, they are drawn together by a common cause - to stop the destruction of Pompeii's heritage. Further adventures of Caroline and Nero are promised.
HIGHLY RECOMMENDED.
--
Queensland Government, New curriculum titles.FUNNY, STYLISH, AND INCREDIBLY IMAGINATIVE:
"The Dogs of Pompeii" is all that and more. Authors Barry Creyton and Vaughan Edwards brilliantly manage to walk that razor thin line between entertaining kids and appealing to adults as well. What emerges is a skillfully rendered, magical tale that readers of any age can embrace with all their hearts. This mixture of mystery, art, history, fiction, and anthropomorphic creativity is irresistible. --
SAM BERNSTEIN, Screenwriter, Producer, Hollywood, California
A rollicking good adventure with lots of humor!
Book 2 is on the way. Narration of the adventure switches between 15 year old Caroline, an American girl visiting her archaeologist uncle, and Nero, one of the dogs of Pompeii.
NERO IS MY HERO!
--
DYMOCKS BOOKSTORE AUSTRALIA, STAFF RECOMMENDATIONHOW DOGS THINK.
For those who have ever wondered what and how dogs think, here's a story to answer your questions. And you can laugh your way through the knowledge with this entertaining book.
FIVE STARS
--GOOD READING MAGAZINE
Reader Reviews
AMAZON.COM
Awesome!
, July 23, 2013 By
JT "JT"
(USA)
I chose this rating because this book taught me a lot of historical facts. It made me scared, excited, happy, worried, surprised, and much more while reading! I am in Calabria and I visited pompeii and the amalfi coast, and I remember many of the locations and experiences. I highly recommend this book for anyone going to Pompeii, or has already been.
Great entertainment for all readers
, October 5, 2013 By
Tessa Trevino
I read this book the day after visiting the Pompeii ruins. The dogs of Pompeii are just as endearing and charming in real life as Nero of Pompeii. And how great to have a book that tells a tale of family, love and dignity among these native Pompeiians.
Made me laugh out loud...
, June 13, 2012 By
Razberriez "Technology & Animal Lover!"
(New Orleans, LA)
Downloaded this on my iPad while still in Italy. I just finished a private tour of Pompeii and then downloaded this book. It was super cute and funny, it made me laugh out loud a few times... I am a dog owner also, so that combined with the fact I related to the winding roads and history of Pompeii made the book that much more fun! I finished it very quickly. The only disappointing thing is that I want to read the next book in the series and I can't find it.
Clever Fun for Kids and Adults Alike
, May 25, 2011 By
Craig Keller
(Los Angeles, CA United States)
If you are a dog lover you will love this book. In fact if you like Italy, History, Archeology or Laughing... you will love this book. I bought it for an 11 year old but ended up reading it myself as well. Its so refreshing to see life through a dogs eyes! It's a fun action filled adventure that includes an insightful look into the history and geography of Pompeii, as well as great characters that keep you interested. But mostly you are routing for loveable Nero, the lead dog, who's destined to be the one to save the day.
What a romp!
, May 17, 2011 By gridprice
This delightful dog's-eye view of modern-day Pompeii is crying out to be made into a movie! A charming heroine, a hairy rogue of a hero, and a high-speed caper kept the story racing and this reader engaged.
A Book for our time
, April 25, 2011 By
James A. Myl "bob's older brother"
(calif)
I loved this book. Just the title is so welcoming and the story unfolds in such a wonderful way. And the Dogs are central characters that bind it together. I would love to see this as a series of books and hoping it is turned into a movie. I just cannot stop talking about it and recommend to all my friends.
Jay Myl
What could be more fun than a summer spent in Italy?
, April 12, 2011 By
Missey J
One spent on an archeological dig in Pompeii with a cute guy, and a wise cracking dog for company! Dogs of Pompeii takes the reader on an archeological adventure with Caroline, a young American girl, and Nero, a tough Italian dog, as guides. Hold on tightly as they battle evil developers and dog catchers, learn cultural and specie differences, and fall in love for the first time. A smart, fun read that will appeal to both adults and kids alike, you'll be sure to learn some Italian history, language and culture while having a good laugh.
An adventure with heart
, April 11, 2011 By
Marian
I just finished reading "The Dogs of Pompeii" on my Kindle. What fun! Mysteries, travel and dogs- three of my favorite things in the world. It was fun and very funny- some good dry humor to appeal to the adult reader as well. Loved the two points of view- Caroline and Nero (a dog with a brave heart). I also enjoyed the Italian names and phrases and the gusty girl heroine. Glad to see it's the first of a series. Make this into a movie!
Fun Read for Young & Old
, April 9, 2011 By
Tim "Old Chicago Lover"
(Southern California) The Dogs of Pompeii is an enjoyable romp through Italy. All the fun & suspense of the old Hardy Boys/Nancy Drew mysteries with the modern technology of today. Added to that, you get the "dogs" point of view. I would recommend this to anyone from 9 - 90 who's looking for a fun escape!
---