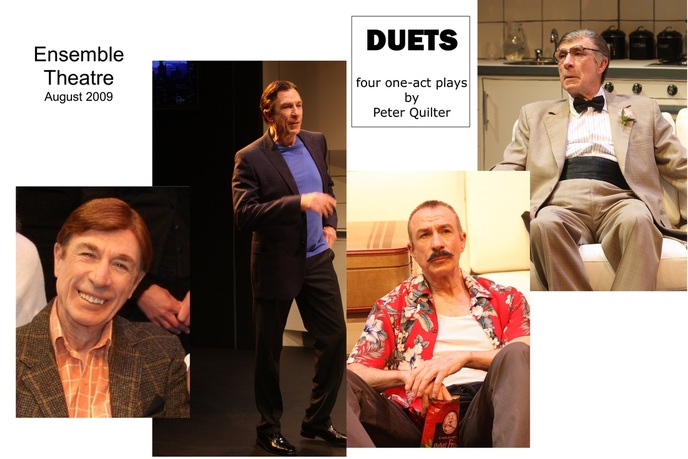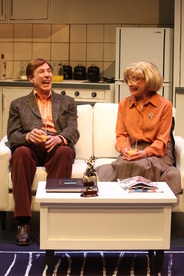 Practice makes perfect. No wonder, then, that Barry Creyton and Noeline Brown hover hover so very near to that mark in Peter Quilter's Duets.

First off, we meet Jonathon & Wendy. Creyton, who, out of character, looks as fit as a fiddle for his, or any age, is barely recognisable as an elderly bloke with a pronounced paunch and bushy eyebrows. His very carriage, as well as every other facet of his bodily, facial, emotional and vocal disposition is adapted entirely, to become Jonathon. It's an extraordinary, jaw-dropping feat of finesse and his first saunter across the stage would've been enough to confirm his status as a laudable elder statesman of Australian and international theatre.

---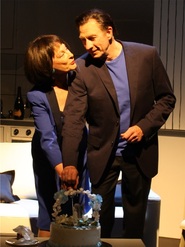 Americans Janet & Gary couldn't be further removed, culturally: sophisticated, cosmopolitan and, in Gary's case, gay. As his personal assistant, spending long hours by his side, Janet, in simultaneous awareness and denial of Gary's orientation, craves his companionship, and more, on a deeper level. It's a powerful exploration of a plausible relationship; one only resolved in the most temporary of senses. Creyton utterly reinvents himself and is, again, thoroughly convincing, with his upright, out-and-out gay pride, repartee and slight air of lonesome tragedy.
---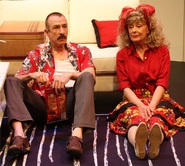 Shelley & Bobby are the long-married, divorcing Aussie couple on their last hurrah holiday in Spain, still drawn and torn apart by it. It's not hard to find the sweet, let alone downright funny amidst what is overwhelmingly sorrowful. It's Brown who takes centre-stage here, in her drunken clarity. Bobby may be more sober, but is drowning in confusion and anger.
---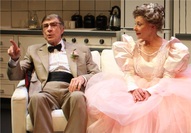 Angela & Toby are brother and sister; Angela, about to marry for the third time, with her nagging, gnawing doubts exacerbated and symbolised by electrical storms, downpours and spilt coffee. Brown & Creyton match each other's breathtaking expertise in sympathetically drawing these difficult characters. Creyton and Brown have presented a theatrical masterclass. I hope it's far from their swansong.

SYDNEY STAGE REVIEWS
Lloyd Bradford Syke
---
Duets comprises four short two-handers populated by diverse characters all faced with the same problem: finding, securing or doing without love late in life.
Hysteria builds in the final vignette. ''That's not the same actor, is it?'' whispered one woman to her friend in the row behind me as Creyton stepped out as the paunchy bachelor Toby. In this context, there's no finer compliment.
SYDNEY MORNING HERALD
Jason Blake